Περσεφόνη - ΚαλλιέργειαΚαλλιέργεια
(For English , pleasce scroll down)
2022: Η ομαδα ΚαλλίεργειαΚαλλιέργεια παρουσίασε την Εγκατασταση Περσεφόνη, στο Platforms Project 22,  στην ΑΣΚΤ Αθηνών.
Εγκατάσταση ΠΕΡΣΕΦΟΝΗ είναι συνεργατικό έργο και από τα επτά μέλη της ομαδας.
Την εγκατασταση την πλεσίωσαν δυο περφόρμανς.
Performances: 1. Στέλλα Τσουματίδου, 2. Αικατερίνη Κριεζή
Η Λυδία και η Αικατερίνη είναι μέλη της ΚΑλλιέργειαςΚαλλιέργειας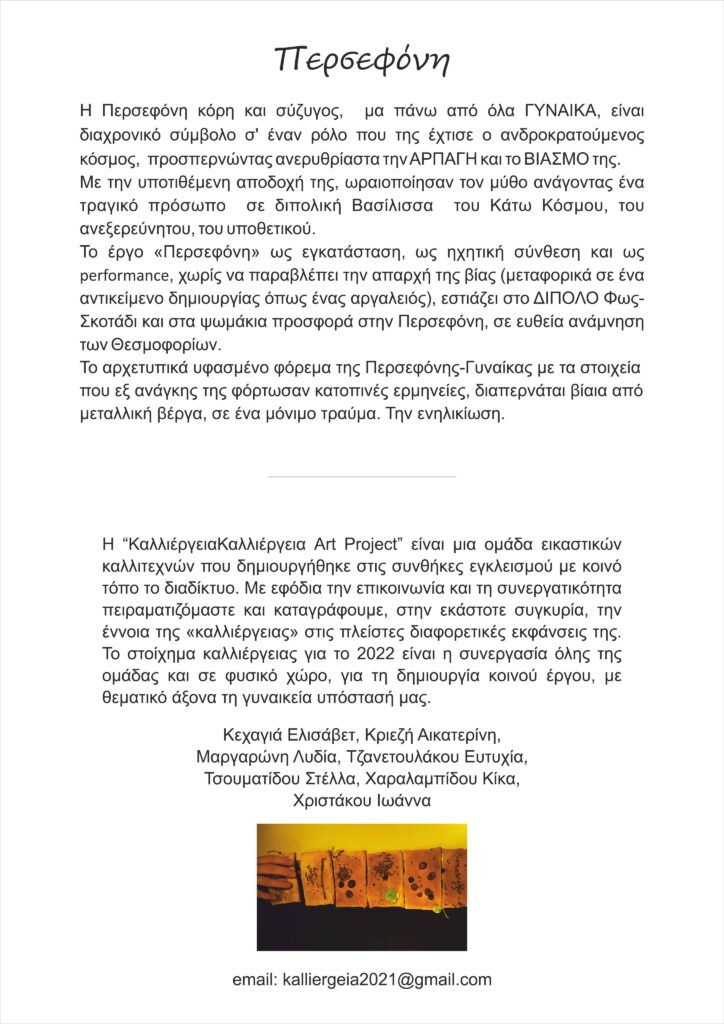 2022: The  art group CultivationCultivation presented an installation in the Platforms Project 22  in School of fine Art in Athens. 
The instalation is a collaborative work between all seven members of the group.
The installation was accompanied by two performances.
Performances: 1. Stella Tsoumatidou , 2. Ekaterini Kriezi
both Lydia and Ekaterini are part of the group CultivationCultivation