Water Carrot with coordinates 37°51'26.7"N 23°38'37.4"E
Project Title: Water Carrot with coordinates 37°51'26.7″N 23°38'37.4″E
Dimensions: 210 cm x ø15 cm
Materials: Plastics, beach trash, water and light in Plexiglas
"Carrot" is the cylindrical borehole sample showing the geological stratification of the subsurface.
The "Carrot of water …"  is a hypothetical approach of the Saronic Gulf future.
The garbage collected at beaches of Attica region, have the color quality of tesserae, which in the presence of light acquire the essence of an art work.
The work was presented in the exhibition "Cases of Hyle" in Athens
Ekaterini Kriezi, Lydia Margaroni, 2022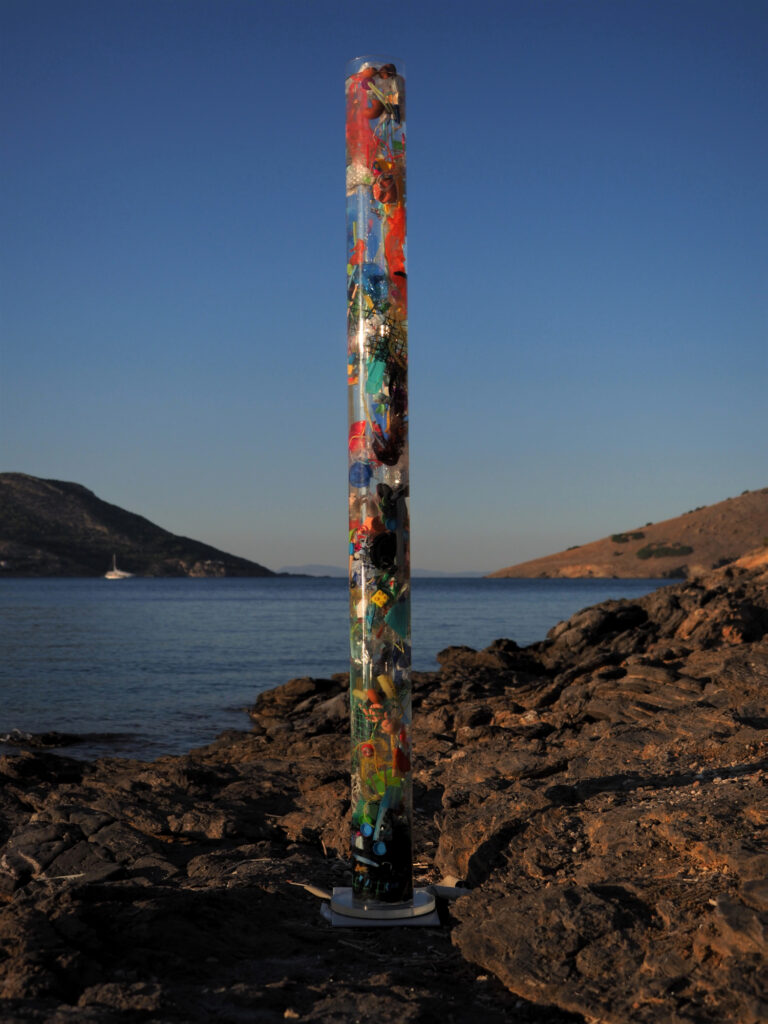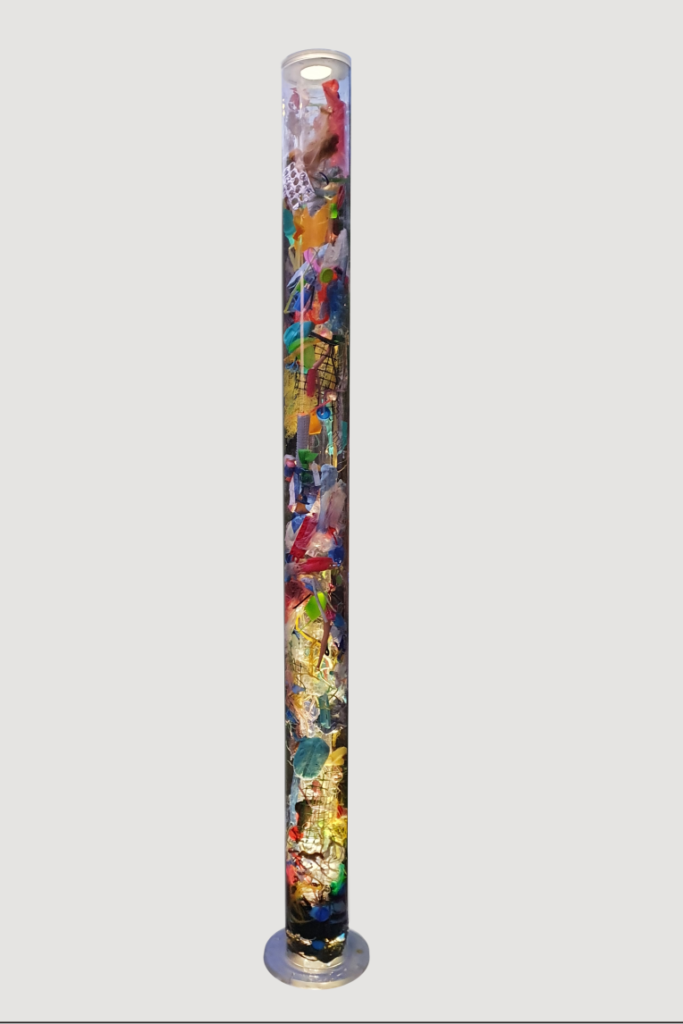 Τίτλος έργου : Καρότο νερού με συντεταγμένες 37°51'26.7″N   23°38'37.4″E
Διαστάσεις : 210 εκ  x ø15 εκ 
Υλικά : Πλαστικά, σκουπίδια παραλίας, νερό και φως μέσα σε Plexiglas
«Καρότο» είναι η κυλινδρική στήλη γεώτρησης που δείχνει την γεωλογική  διαστρωμάτωση του υπεδάφους. Το «Καρότο νερού…» είναι μια υποθετική προσέγγιση του μέλλοντος του Σαρωνικού κόλπου.
Τα σκουπίδια συλλεγμένα από παραλίες της Αττικής, ενέχουν τη χρωματική ποιότητα ψηφίδων, που με την παρουσία του φωτός αποκτούν υπόσταση έργου τέχνης. 
Το έργο παρουσιάστηκε στην έκθεση "Case of Hyles" στο  Πεδίον του Αρεος απο 28/9/22 εως 12/10/22
Αικατερίνη Κριεζή, Λυδία Μαργαρώνη , 2022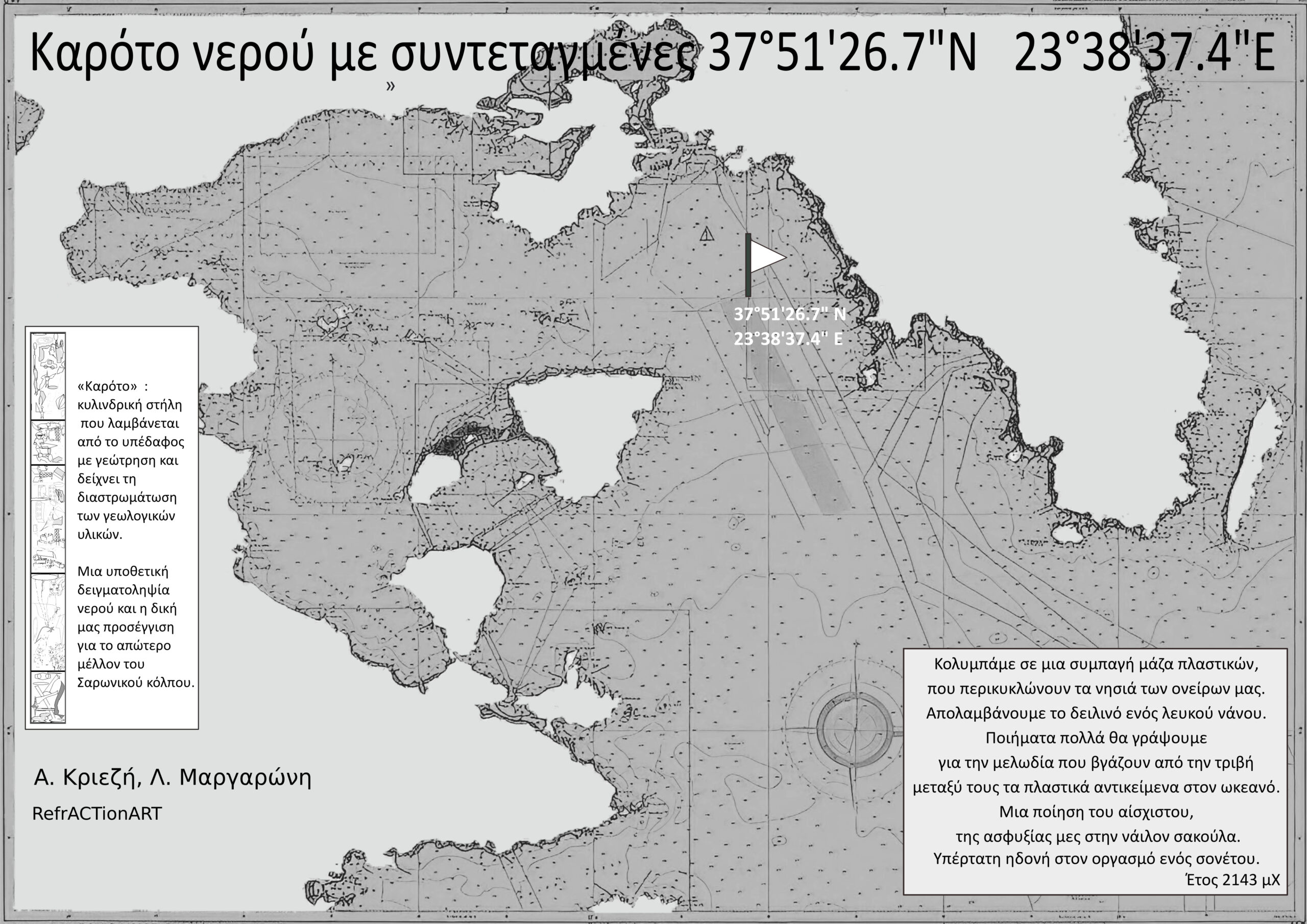 Photos from  the exhibition "Cases of Hyle"