The work is composed by material, garages found on a beach in Attika area, 2018.
On one hand the work presents the beauty we can produce with useless material, but on the other it targets to bring awareness of the problem of environmental pollution with synthetic/composable material and the incomplete implementation of legislation and programs regarding waste management and they're potentially recycling.  In addition, it is a "record" of human activity, as tragic as it turns out (refugee), which diffuses through the sea to the beaches without limits or borders.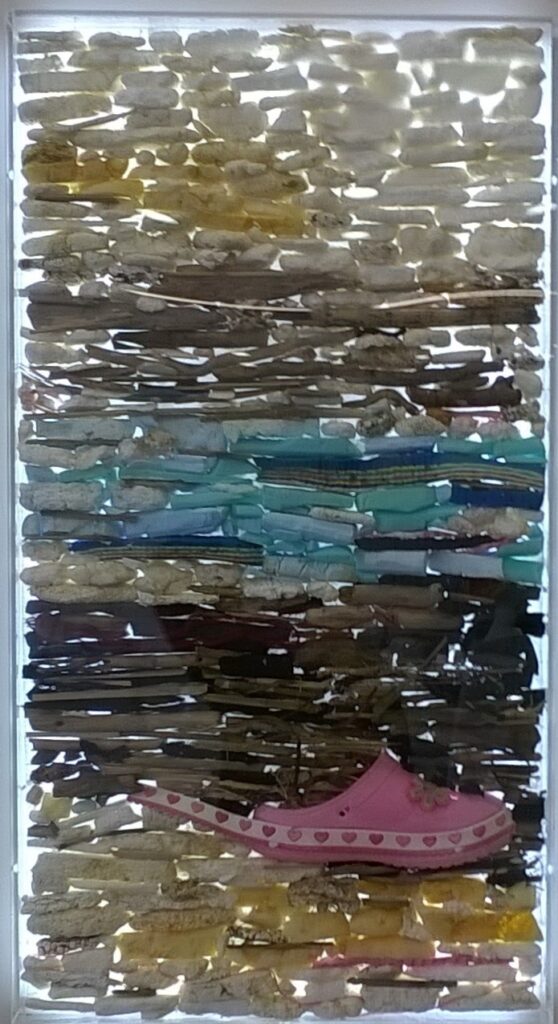 Το έργο συντίθεται από υλικά – απορρίμματα που βρέθηκαν σε παραλία της Αττικής το 2018.
Από την μια πλευρά το έργο παρουσιάζει την ομορφιά που δυνητικά μπορεί να συντεθεί με άχρηστα υλικά, από την άλλη όμως έχει σαν σκοπό την ευαισθητοποίηση, σχετικά με την μόλυνση του περιβάλλοντος από συνθετικά/χημικά υλικά και την μη επαρκή εφαρμογή κανόνων για την διαχείριση  αυτών των απορριμμάτων ή την πιθανή ανακύκλωσή τους. Επιπλέον αποτελεί «καταγραφή» της ανθρώπινης δραστηριότητας, όσο τραγική και αν αποδεικνύεται (προσφυγικό), που διαχέεται δια μέσου της θάλασσας στις παραλίες χωρίς όρια ή σύνορα.